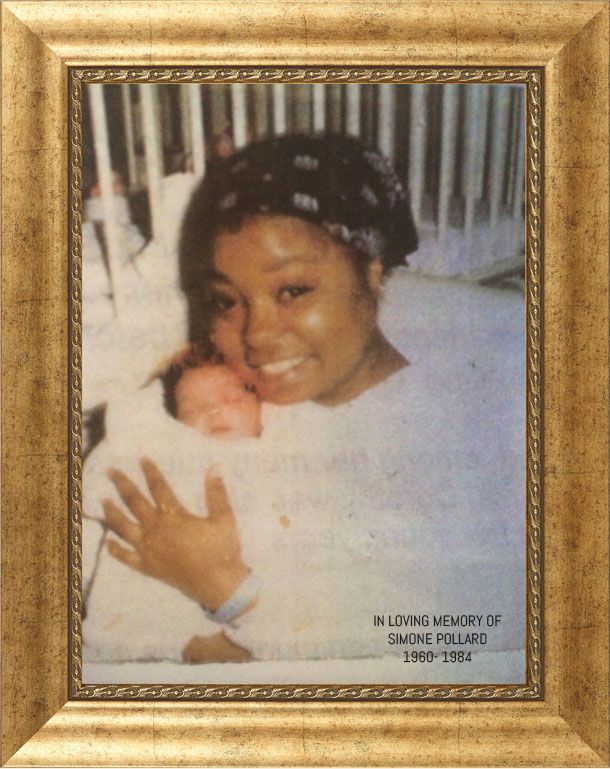 The Simone Pollard Memorial Fund
Is in memory of our founder's late sister, whose life was tragically claimed by domestic violence. The program was established to provide support to families with hardship, who lost their loved ones due to domestic violence.
The Simone Pollard Memorial Fund program provides a victim's family financial support to assist with funeral expenses, cremation, and or floral arrangements.
We want to give a family peace of mind, comfort, and support during their difficult time. If you or someone you know needs assistance, our advocates are standing by. Please call 1-866-960-1268 for more information certain conditions apply.
The Simone Pollard's Story
Devoted Daughter, Mother & Sister
Simone Pollard was born in Cleveland, Ohio to Sandra Lawrence and Jafar Bawwabun-Bey on December 25, 1960. As a Christmas baby, Simone always expected double the presents.
Growing up as a little girl, Simone spent a lot of time in church with her family. Her charismatic spirit, and beautiful smile made her very popular in school. While her rhythmic moves, and soulful voice captured the hearts of many; cooking was at the top of her things she'd loved to do, and she did it very well. As Simone grew into an adult, she transitioned from a beautiful budding young woman, into a dark path of isolation due to alcohol, and drug abuse.
Young Simone's encounter with mature men she barely knew, destroyed her innocence, and led to her many years of her being brutally abused. Six months before her tragic death, on April 23, 1984, Simone gave birth to her only daughter on October 11, 1984. Simone was found dead on her kitchen floor with a ruptured spleen from the many kicks and punches to her abdomen.
It was not until years later, her sister / survivor and founder Tahirah Ogletree, dedicated a memorial fund in honor and memory of her life. The Simone Pollard Memorial FundSM provides families financial resources to assists with funeral, cremation, and floral arrangements.
Read Simone's Full Story In Survivors Celebrating Life Beyond Domestic Violence